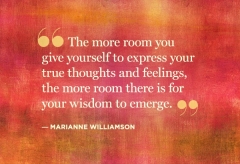 Mindful Self-Compassion, Making Friends with Your Mind, Body & Spirit...
A full day for you! To accept yourself, build inner strength, thrive and opportunities to live your life with purpose, passion, clarity and meaning…
Investment: $250 Include seminar, workbook, processes, morning/afternoon tea, shared lunch
The day is a potent mix of seminars and processes to connect to your core self and Inner Healer. Get clear on the values you would like to live by in 2019.
It includes Boundary setting, Self-Compassion, and how to become friends with your mind, body & spirit and more...
The day is a potent mix of seminars and processes. It includes support to start the year with getting clear on your values, the many benefits of this and how it supports healthy boundries. Understand and learn ways to let go of the armour that we so often carry with us unconscious and the way it affects our relationship with ourselves and others.
Learn about self-compassion, what it is and why it is so important.
We will learn healthy ways, resources and processes from the work of Brene Brown (a ground researcher in vulnerabilty & shame) and Kristine Neff (a ground researcher in self-compassion)

You are not obligated to do or say anything the choice is yours. My aim is for you to have your own unique experience. The group will be small only.
Limited spaces, for booking and enquires please contact me via phone or email